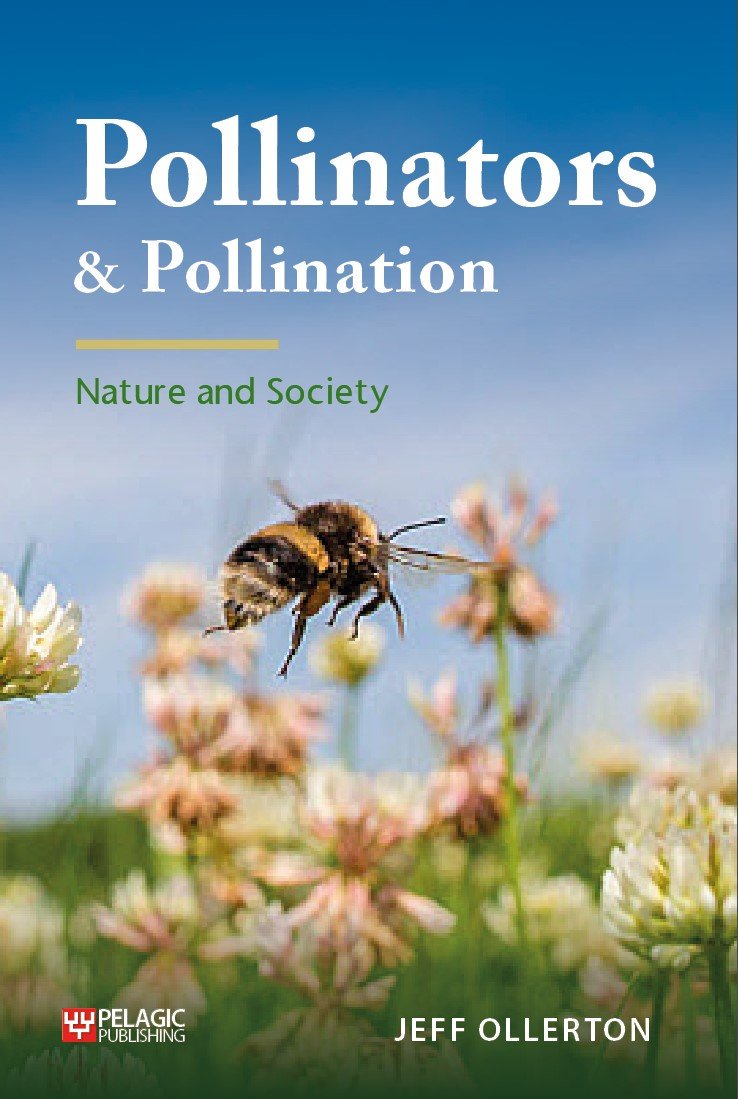 UPDATE: turns out the figure I cited for number of bee species is out of date so I've corrected it below. Thanks to John Ascher for pointing this out.
Publication of my book Pollinators & Pollination: Nature and Society by Pelagic Publishing has been pushed back until the end of this year or early in 2021. The current pandemic has created problems for the printing and distribution sectors, as it has for so many industries. Therefore, to celebrate World Bee Day, here's a preview of the bee section from Chapter 2 which is entitled (ironically enough) "More than just bees – the diversity of pollinators".
2.3 Bees, wasps and sawflies (Hymenoptera)
The bees and their relatives rank only third in terms of overall pollinator diversity.  Within this taxonomic Order, bees are not especially species rich (17,000 or so described species, perhaps 20,000 in total) – over 20,400 (see: https://www.catalogueoflife.org/col/details/database/id/67) compared with the other 50,000 social and solitary wasps, sawflies, and so forth. But what they lack in diversity the bees make up for in importance as pollinators of both wild and agricultural plants, and in their cultural significance.  The general notion of what a bee is, and how it behaves, looks to the honeybee (Apis mellifera) as a model: social, with a hierarchy, a queen, and a large nest (termed a hive for colonies in captivity).  In fact, this view of bee-ness, though long embedded within our psyche, is far removed from the biology of the average bee: most of them have no social structure at all, and a fair proportion of those are parasitic.  In Britain we have about 270 species of bees, give or take (Falk 2015) though there have been extinctions and additions to this fauna (see Chapters 10 and 11).  These species provide a reasonable sample of the different lifestyles adopted by bees globally.  They can be divided into four broad groups.
Honeybees include several highly social species and subspecies of Apis, of which the ubiquitous western honeybee (A. mellifera) is the most familiar. Most colonies are found in managed hives, though persistent feral colonies can be found in hollow trees, wall cavities, and other suitable spaces. They are widely introduced into parts of the world where they are not native (e.g. the Americas, Australia, New Zealand) and there is some debate as to whether they are truly native to Britain and northern Europe, with supporting evidence and arguments on both sides. Colonies can be enormous and contain thousands of individuals, mostly female workers, with a single queen. Unmated queens and males (drones) are produced by the colony later in the season.
Bumblebees (Bombus spp.) are typically also social, though their nests are much smaller (tens to hundreds of individuals). Depending upon the species these nests can be in long grass, rodent holes, or cavities in buildings and trees. Twenty-seven of the more than 250 species have been recorded in the UK, but six of these are not strictly social; they are parasitic and belong to the subgenus Psithyrus which will be described below.
The so-called solitary bees are by far the largest group in Britain (about 170 species) and worldwide (more than 90% of all species). In the UK they belong to 15 genera, including Andrena, Anthophora, Osmia, Megachile, etc. The females of most of these bees, once they have mated, construct nests that they alone provision with pollen for their developing young. Nesting sites can be genus- or species-specific, and include soil, cavities in stone or wood, and snail shells. Some species are not strictly solitary at all and may produce colonies with varying levels of social structure, though without a queen or a strict caste system; we term them "primitively eusocial". In fact sociality has evolved and been lost numerous times in the bees and in the rest of the Hymenoptera (Danforth 2002, Hughes et al. 2008, Danforth et al. 2019). It's also been lost in some groups that have reverted back to a solitary lifestyle, and even within a single genus it can vary; for example in the carpenter bee genus Ceratina (Apidae: Xylocopinae) tropical species are more often social than temperate species (Groom & Rehan 2018).
The final group is termed the cuckoo bees and, like their avian namesake, they parasitise the nests of both social and solitary bees (though never, interestingly, honeybees). There are about 70 species in 7 genera, including the bumblebee subgenus, Psithyrus. Other genera include Melecta, Nomada and Sphecodes. In some cases the parasitic species are closely related evolutionarily to their hosts and may resemble them, for example some Psithyrus species. In other cases they may be only distantly related and in fact look more like wasps, e.g. Nomada species. Some genera of cuckoo bees are restricted to parasitising only a single genus of bees, others are parasites of a range of genera (Figure 2.4).
Although we often think of bees, overall, as being the most important pollinators, in fact species vary hugely in their importance. Pollinating ability depends upon factors such as abundance, hairiness, behaviour, body size, and visitation rate to flowers (Figure 2.1). Size is especially important for three reasons. First of all, larger animals can pick up more pollen on their bodies, all other things being equal. Secondly, in order to bridge the gap between picking up pollen and depositing it, flower visitors must be at least as large as the distance between anthers and stigma, unless they visit the stigma for other reasons. Finally, larger bee species tend to forage over longer distances on average (Greenleaf et al. 2007) thus increasing the movement of pollen between plants. However, most of the world's bees are relatively small as we can see from the analysis of British bees in Figure 2.5. Many species have a maximum forewing length of only 4 or 5 mm, and the majority of species are smaller than honeybees. Remember also that these are maximum sizes measured from a sample; individual bees can vary a lot within populations and even (in the case of Bombus spp.) within nests (Goulson et al. 2002). So the assumption that all bees are good pollinators needs to be tempered by an acknowledgement that some are much better than others.
Figure 2.5: The sizes of British bees. Forewing length is a good measure of overall body size and the data are maximum lengths recorded for species, except for the social bumblebees and honeybee I have used maximum size of workers (queens are often much larger). The blue line indicates the honeybee (Apis mellifera). The biggest bee in this data set is the Violet Carpenter Bee (Xylocopa violacea) which, whilst not generally considered a native species (yet), has bred in Britain in the past. Data taken from Falk (2015).